The Hello Neighbor Team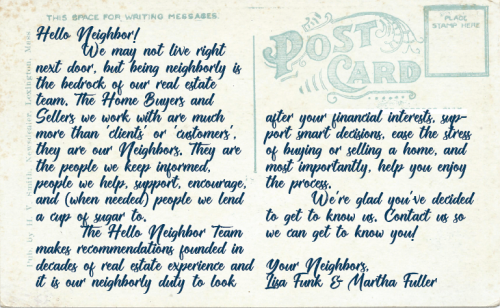 Hello Neighbor!
We may not live right next door, but being neighborly is the bedrock of our real estate team. The Home Buyers and Sellers we work with are much more than 'clients' or 'customers', they are our Neighbors. They are the people we keep informed, people we help, support, encourage, and (when needed) people we lend a cup of sugar to.
The Hello Neighbor Team makes recommendations founded in decades of real estate experience and it is our neighborly duty to look after your financial interests, support smart decisions, ease the stress of buying or selling a home, and most importantly, help you enjoy the process.
We're glad you've decided to get to know us. Contact us so we can get to know you!
Your Neighbors,
Lisa Funk & Martha Fuller